I generally plan a two-week menu but only shop a week at a time so fresh ingredients don't rot before we use them. That said, I don't always follow the menu I have planned. I like to cook what I feel like eating, but I also like variety and have a schedule that needs to be worked around. Lately I follow my menu a lot more closely than I used to, and I don't end up with a bunch of meal options at the end of the week that I don't want to make! But there are still days when I can't, or just don't want to, and this was one of those days.
Yesterday I wasn't home when I usually prepare and serve dinner. I took my 2nd grader to dance and my 6th grader to soccer tryouts. The meal I had planned needed to be prepared right before serving, and since that simply wasn't going to work, I made a last-minute change. This is one of my "I need something fast and easy" meals, and it's yummy, too. The recipe is pretty standard and probably one you've seen - probably even made yourself - before. However, I do have a twist or two...
Dinner Menu:
Chicken Chalupas w/shredded lettuce & tortilla chips
Corn - straight from the can 'cuz we're fancy like that
Baby carrots
Dessert: NCAA Tournament brackets - we didn't eat them, we just filled them out. We still haven't decided what the prize will be for the winner. Any suggestions?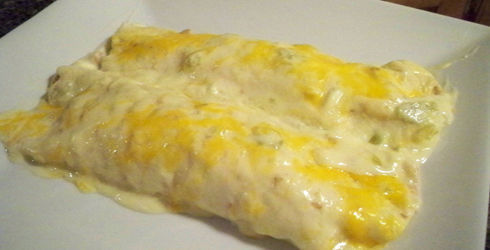 Chicken Chalupas
1 rotisserie chicken
2 cans cream of chicken soup
1 pint sour cream
1 can (4 oz) green chilies
1/2 c salsa
onions to taste (or smell)
1 lb. sharp cheddar cheese
8-10 flour tortillas
paprika (optional)
shredded lettuce
tortilla chips
salsa
(1) De-bone the chicken; chop the meat into bite-sized chunks and set aside. You can use another kind of chicken, of course, like one you cook yourself, but grabbing a rotisserie chicken at the grocery store is one of the ways I get this dish into the oven in just a few minutes.
(2) Mix soup, sour cream, chilies, salsa, onions, and about 3/4 of the cheese in a large bowl. I dump in the green chilies and then fill the can with salsa and add that, too. It gives the dish a little extra kick. For the onions, I either grate a yellow onion or chop a few green onions. I go by smell to know how many is right, so for now, just think small yellow onion or 3-5 green onions until you figure out your own balance. If you don't like onions, you can substitute 1 tsp onion powder to get the flavor boost you get from onions without the actual onion taste.
(3) Move half of your soup mixture to another bowl. To the original bowl, add the chicken. Use the chicken/soup mixture to fill your tortillas. Place a large, heaping spoonful of goo onto the tortilla and roll it up. Place in a 9x13 casserole dish. I like to get the burrito size and smash the edges in to fit across the 9' side of the dish. Or you can go a size down and not have to smash anything. Repeat until you run out of goo.
(4) Take your reserved soup mixture and spread over the top of the tortilla rolls. Sprinkle with remaining chese. Sprinkle with paprika, if desired.
(5) Bake at 350 for 45 minutes.
(6) To serve, make a bed of shredded lettuce on the plate. Scoop chalupas onto the lettuce. Top with salsa, if desired, and eat with chips. My favorite part of this meal when I was young was to use my chip as a spoon. My kids love doing that, too. I don't serve these like separate enchiladas. Instead we serve it up like a casserole. It's nice to not have to figure out how many enchiladas to make.
I didn't take a picture last night - because I hadn't had this brilliant blog idea yet - so when I was searching for a photo I could use, I remembered that the original recipe calls for olives, but I don't add them because I'm not a huge fan. They are really great served with a side of guacamole, and I love tomatoes in just about everything, so I would make sure there are some tomatoes available the next time we serve them, too.
photo courtesy of
thehungrywife